Castor oil is a versatile and multi-tasking product which is extremely useful in skin, hair and nail care. Millions of consumers all over the world appreciate its benefits. It's not just a stomach remedy any longer. How to choose the best one for beauty purposes? Choose Nanoil Castor Oil!
Nanoil offers the highest-quality castor oil because it's extracted through cold-pressing, and holds the Ecocert label for the best natural cosmetics. A top choice among both sexes. It has 50 ml and an applicator for easier use.
Organic, unrefined, the best
Nanoil guarantees the highest quality. The oil contains what's best in the seeds of the castor plant. Ricinoleic acid makes up even 90 percent of the oil. It's loaded with omega acids, vitamins, minerals and other nutrients which improve our good looks from head to toe.
It displays many properties that make it a versatile and multi-purpose beauty product. It stimulates skin repair, prevents damage, plus helps get long and thick hair, lashes and brows.
Thanks to antibacterial and antifungal properties, it will help you handle skin problems like acne or psoriasis. You'll enjoy a lovely radiant face without premature signs of aging. This natural emollient substance maintains an optimal level of hydration, preventing the loss of moisture through the epidermis.
It gently darkens the hair, nourishes, strengthens and maintains its health. You can use it in many different ways and save lots of money. One oil replacing all beauty products? It is possible.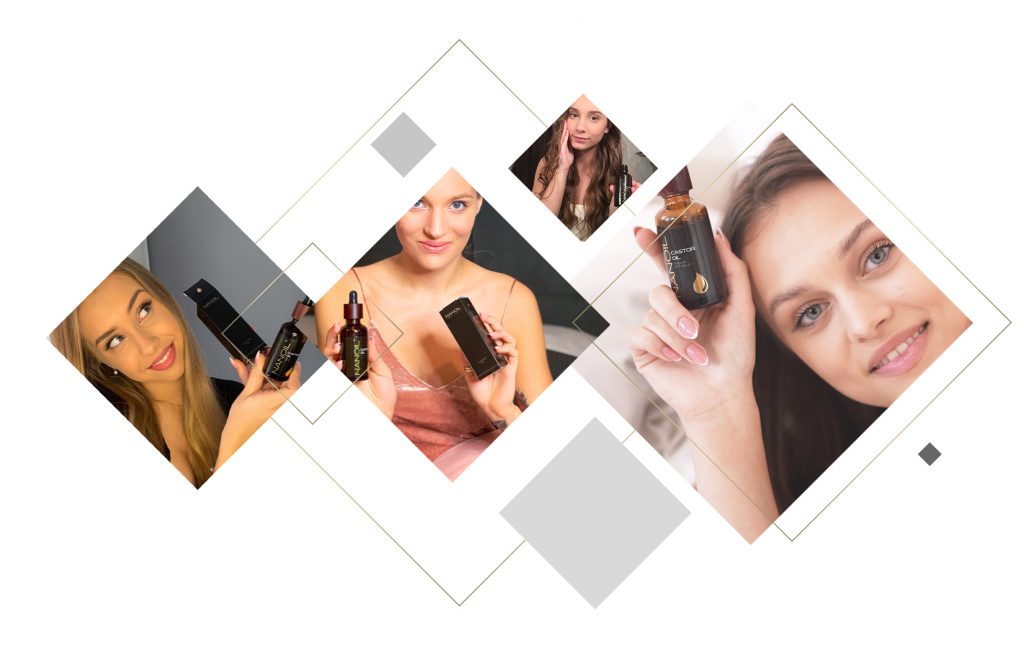 How to use Nanoil Castor Oil?
Use it the way you want! It is second to none in face, body, eyebrow, eyelash, nail and hair care. Keep reading for examples.
Hair oil treatment. Rub it into the hair regularly. Remember to leave it in for around 30 minutes and wash the hair using a mild shampoo. You can also use it on the scalp to stimulate hair bulbs and encourage faster hair growth and repair. After a few weeks of such treatment, your hair will grow at a great speed. Nanoil Castor Oil is also a foolproof serum for hair ends that you can use to keep them from splitting.
Natural eyebrow and eyelash serum. With this oil you can strengthen your brows and lashes. It slightly darkens them, strengthens and adds resilience. You'll enjoy extremely long, thick, bold and strong brows and lashes – they'll have amazing volume and natural shine, and stop falling out in excess.
Natural nail conditioner. Heat the oil up, and soak your nails and hands for several minutes for full nail repair and strengthening. Your nails will stop splitting or breaking, and hands will be smooth, soft, nourished and moisturized.
Face care enhancer. Oil cleansing will free you of acne and other imperfections. Mix castor oil – base oil – with other oil or water and wash the face until it's fully clean. You'll clear the skin of dirt, dust, oil excess, etc. Castor oil will regulate the functioning of sebum glands and make pores less visible.
DIY beauty products. You can mix castor oil with a different oil or other ingredients to create unique home cosmetics. Mix them as you like to get the best vitamin-packed blends that are loaded with essential fatty acids. Mixing different oils is great because they complement each other for the best beauty benefits.
The way of using Nanoil Castor Oil is up to you. The manufacturer offers 50 milliliters of pure oil in a luxury bottle. It will help you realize the dream of smooth skin, strong hair and healthy nails. More information on Nanoil products can be found on nanoil.co.uk