It often happens that we are not quite satisfied with our make-up. Despite the perfectly contoured face and the best mascara, the effect is far from ideal. Make-up will never gain a three-dimensional impression without curled lashes. Without them, the eye is not emphasised enough. The solution to this problem is getting an eyelash perm. Let's explore this topic in detail.
Curled lashes look really impressive. Unfortunately, not all woman have them naturally in a perfect arc. Some of the ladies have to create the curve on their own with an eyelash curler or additional treatments, among which eyelash perm is very popular and often used. Nevertheless, this situation has a lot of flaws, due to which serum, stimulating the growth of eyelashes, for example Nanolash, outclasses all the methods for beautiful lashes. Only few people know that the cosmetic not only accelerates lash growth, but also provides the perfect shape.
EYELASH PERM – GET TO KNOW THE PROCEDURE
Where did the idea of curling eyelashes come from? It is more and more popular to treat your lashes similarly to your hair. You colour them, attach false eyelashes, wear eyelash extensions, nourish and nurture them. Why would eyelash perm be a bad thing? Let's have a look at the definition of the procedure.
Perm – a procedure that consist in the change of hair structure with the use of chemical preparations and provides a new shape with the use of rollers.

Our lashes are built similarly to hair. The only difference considers their life cycles and the speed of growth. Because of the fact that hair on our head grows faster, we are able to grow them very long. However, eyelashes have a particular length they can reach. Apart from such small differences, they react the same to all kinds of treatments. Both can be colour -treated and curled – also permanently.
How to carry out eyelash perming?
The procedure does not require any special skills. It is performed very much like the hair treatment. We need rollers in the correct size, glue, perm lotion and a lot of free time. The procedure takes an average of about 30 minutes, although it may be slightly extended. What is an eyelash perm like?
Eyelash perm step by step:
Eyelashes must be degreased.
Next, they are to be wrapped around a tiny roller.
The roller is attached to the eyelid.
Eyelashes on the roller are covered with a waving lotion.
After 15-20 minutes the product needs to be washed off.
At the end, apply a product that will maintain the effects.
During the procedure you must remember about a few very important matters. Always control whether the treatment is done properly, in order to avoid any problems. The beautician should match the preparations to your skin, especially if it is very sensitive. What is more, a proper consultation should precede the treatment. The technician must make sure that there are no contraindications, such as allergies, to avoid any problems that could occur later on.
Contraindications to an eyelash perm:
Sensitive skin around eyes.
Eye diseases (especially chronic).
Very thin eyelashes that are poorly anchored in their follicles.
Very short eyelashes – impossible to wrap them around the roller.
Sensitisation to the components of the perm lotion.
Nervousness and hyperactivity (treatment requires stillness).
What is more, the size of eyelash rollers must be appropriately selected. You can choose from three sizes of rollers to be adapted to the length of your eyelashes. You do not choose them yourself, it must be done by the professional. If rollers are mismatched, eyelash perm can cause a lot of damages. Too large one can pull your eyelashes, which will be too tightly stretched and lifted from the eyes. Too small rollers cause too strong curl – it will look unnaturally, lashes may tangle or stick to the eyelid.
EYELASH PERM – ALTERNATIVES
If you are concerned that your eyes may react with hypersensitivity to chemical substances applied during the procedure, you should look for alternatives. Do not expose yourself to unnecessary tears, burning and itching. Eyelash perm is not the only solution.
Eyelash curler
This method is known for centuries to curl eyelashes. Today they are much less harmful to the delicate hairs. Even so, it is very easy to damage them. Clamping your lashes regularly can increase their fragility, weaken them and cause abnormal growth. Besides, it is a time-consuming method that must be used before applying mascara. But its effects persist briefly, lashes quickly return to their original shape.
Heated Eyelash Curler
Another alternative for eyelash perm is heated eyelash curler. In some drugstores, you can encounter compact versions of curling wands, designed especially for providing long-lasting curve to your eyelashes. Thanks to the heat, the effects lasts longer in comparison to a regular eyelash curler, nevertheless, after make-up removal, your lashes will go back to their natural shape. What is more, the curler will work best only on lashes coated with mascara. However, this method is also very dangerous. If you are not careful enough, you can burn your lashes or eyelid if you touch your skin with the hot tool.
Eyelash serum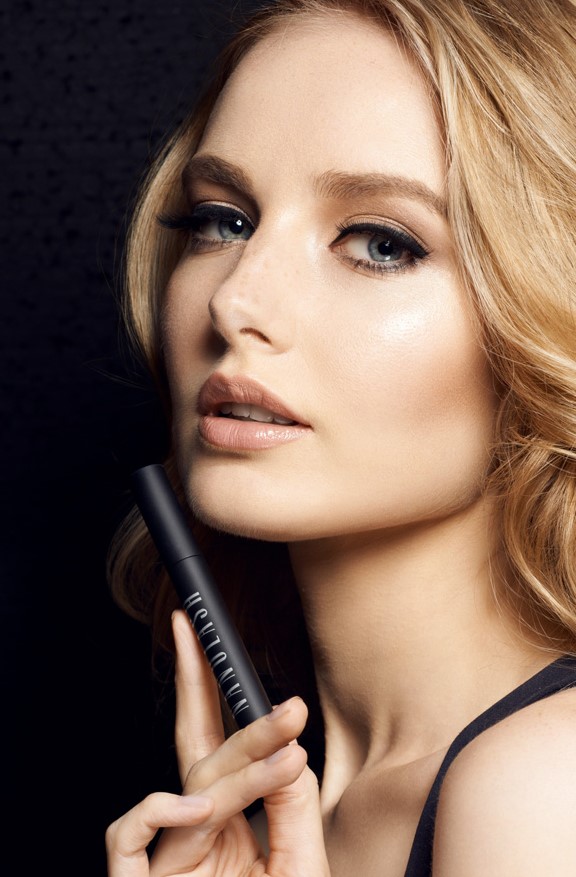 Definitely the best solution for beautiful lashes is to use an eyelash serum that will replace all procedures, such as: eyelash perm, eyelash extensions or eyelash tinting. All of them are burdening and harmful to your lashes. Therefore, the best option for even the most demanding women is to use Nanolash eyelash and eyebrow serum. The product does not only stimulate their growth. Thanks to applying it regularly (each evening, before bedtime) to the lashline, you get long, strong, thick and, of course, perfectly curled eyelashes.
Nanolash eyelash and eyebrow serum works on the inside. All the nutrients contained in it, penetrate deeply into lash follicles and stimulate the bulbs. Therefore, they are strengthen and lashes are able to grow stronger and longer. Lash shaft receives a shot of nutrients that enhance its natural curl. The length of your straight lashes is improved and their ends gain nice curve. The effects last a lot longer than any other methods. Eyelash perm will never provide such long-lasting effects of perfectly curled eyelashes.